Each Peoples Home Health patient receives a personal, in-depth assessment conducted by our team that considers their condition, personality, and environment.
Our skilled nursing services help you recover from an illness or injury and get back on your feet. We coordinate your care, treat your condition, monitor your progress, and provide the skills you need to manage your health. Whether it's learning how to manage your medication, understanding how food and activity can affect your wellbeing, or recognizing early signs of potential health problems – we're here to help. With our skilled nursing services, you can regain your independence and enjoy a better quality of life.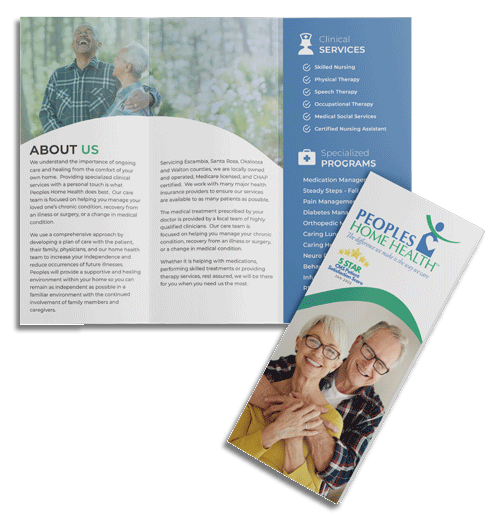 The nurse, Vivian, was very knowledgeable and helpful. She was always very cheerful. She made everything a lot easier for us with recommendations, contacting doctor's offices, etc. She is a true asset to your company.
Clarence
Patient
Found all involved in my husband's care to be competent and kind. Love that this quality of care is available to patients in our area.
Joseph
Caregiver
The professionalism and thoughtfulness of the team members, including Vivian, Wayne, Leanne, Soan, and Nona were amazing. Constantly provided me with excellent care.
Kathryn
Patient
My family and I were very satisfied with Peoples Home Health services - would highly recommend this agency.
Vivian
Patient
Thanks to all staff who helped me, especially Shaun. He was wonderful.
Regina
Patient
Please thank the entire team. I am grateful that they all came and helped me recover from surgery and gave my friends a break and family peace of mind.
Sheryl
Patient
Excellent group of healthcare professionals to provide the highest level of care! All of the staff that worked with me became my friends. I would definitely use Peoples Home Health again!
David
Patient
Vicky was excellent; friendly, caring, encouraging, knowledgeable, and dependable. She is an asset to your company.
Stephen
Patient
Each and every one that came to see me was very nice, helpful, very interesting folks. Even walked with me to the mailbox and made sure the door was locked when they left. All fantastic people.
Maureen
Patient
I've never had complaints with anyone. Everyone is professional and personal at all times. The therapist are excellent and get me up to do a lot of things i doubted myself on.
Doris
Patient
Nurses, occupation and physical therapists, and everyone have been the best group of people. They are professional but caring. I would recommend this group to everyone.
Richard
Patient
I was worried about my balance and falling. Now I know how to make myself stronger. Also, Maria gave me good tips to improve my memory. I enjoyed meeting all therapists and learned what I needed to do to be safer!
Barbara
Patient